In oil-rich Alaska, an energy crunch
A shortage of natural gas besets the state's most populous area. In rural outposts, energy costs spike.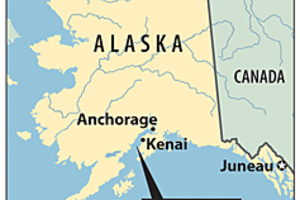 Rich Clabaugh
On the shore of Cook Inlet, site of Alaska's oldest oil- and gas-producing basin, the Agrium Inc. fertilizer plant for four decades produced a steady supply of urea and ammonia for international agricultural and industrial clients. Agrium's exports supported a prosperous petrochemical business, employing hundreds and bolstering local tax rolls.
But operations ceased in December. The reason? Lack of natural gas, the feedstock for Agrium's products. Despite its perch atop a petroleum basin, Agrium couldn't secure enough natural gas to stay in business.
Agrium's woes symbolize a larger energy dilemma: Raw resources are in the ground, but lack of infrastructure and poor economies of scale hinder access to them, putting Alaska in an energy crunch.
Natural gas at the North Slope – America's largest known but untapped conventional natural-gas supply – is 700 miles away and unavailable. There's no pipeline to convey North Slope natural gas to consumers, in or out of Alaska.
So Alaska's most populous region relies on local energy – Cook Inlet natural gas – for heat and power. But natural gas known to be in Cook Inlet is expected to last eight more years, and local utility costs have risen as markets tighten.
"It's the goofiest thing in the world, to be sitting on top of some of the biggest energy reserves in the world and have these challenges," says Bill Popp, president of the Anchorage Economic Development Corp.
Reviving exploration in Cook Inlet
---