Sea captains' logbooks reveal secrets of New England's fishing culture
Researcher Bill Leavenworth collects logs from the mid-1800s, which offer clues about yesterday's – and today's – cod stocks.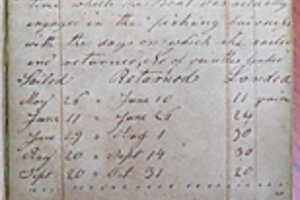 Courtesy of National Archives, Waltham, Massachusetts
In the hamlets and modest seaports that dot the coastal counties of New England, Bill Leavenworth trolls for the lost bounty of the Gulf of Maine. His prey: the bound, handwritten logs kept by the captains of virtually every fishing boat that plied those rich waters between 1852 and 1866.
The logs were once held in the region's customs houses, but over time were scattered to the four winds. Some landed in basements and attics, some were donated to local libraries and museums, and others returned to fishermen. On Nantucket Island, a number were stuffed between the walls of a public building as insulation against the winter cold, and were only recently found during a renovation. Others were undoubtledly used to start the fires of fish-house stoves or simply thrown away.
In the yellowing pages of these surviving logbooks lie the secrets of the ocean fisheries' past – and perhaps lessons for its troubled present. The books contain daily entries on the vessels' movements, the weather, unusual occurrences, and careful tallies of the number of fish caught by each man aboard. The numbers and words have yielded some bracing revelations about just how many cod there once were in New England and the Canadian Maritimes.
And so, Mr. Leavenworth, a University of New Hampshire (UNH) researcher often finds himself standing behind a lectern at churches, high schools, or libraries, describing his team's work to commercial fishermen, gentleman farmers, retirees, and small-business owners who populate the coast. "My last car had 232,000 miles on it," says Leavenworth, whose own ancestor fished off New Hampshire in the 1660s.
---