South's ill-timed drought may further crimp U.S. economy
The region's booming growth has counterbalanced trouble elsewhere. But the long dry spell is taking a toll.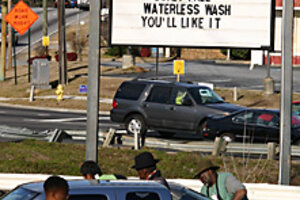 Patrik Jonsson
Johnny Whitt, a soft-spoken skateboarder, grinned just thinking about his summertime ritual of going to the pool with his friend, Rowan O'Halloran, to hang out and cool off. But when informed that Georgia may be closing swimming pools at the height of "the sticky season," Johnny's happy face soured.
"That's a bad idea," he says. "It's too hot around here in the summer to go without the pool."
Bad idea or not, the possibility of widespread pool closings this summer shows that the southeast's drought – a dry spell of historic note making worldwide headlines – is disrupting everything from kids' comfort to some of the region's key industries.
Moreover, how the South responds to the improbably dry weather may affect the broader US economy, since the region's booming metro areas and job growth have so far fended off a national recession.
"The coincidence of having [potential] recession plus drought is a tough one for the economy," says Jeff Humphreys, an economist at the University of Georgia in Athens. "It's coming on top of the housing recession and the oil price shock, making our economy more vulnerable than would otherwise be the case. I don't think the drought alone is able to produce a recession, but it adds to negative forces that are already out there."
---