Tornadoes tear through Southern states, but new alerts saved lives
The Super Tuesday tornadoes were the deadliest in the US in more than a decade.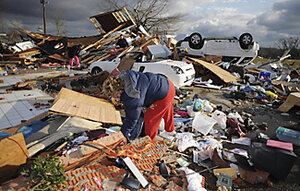 Bruce Newman/AP
The devastation in tiny Atkins, Ark., following a deadly spate of winter tornadoes, hit residents hard as rescuers picked through the rubble of churches and homes Wednesday.
"It's just terrible," says J.L. Austin, a local barber, in a phone interview.
The Super Tuesday tornadoes killed at least 48 people, including four in this town. But a year-old siren system in the rural Arkansas county may have saved lives. Sirens blared 20 minutes before the tornado hit, enough time for Mr. Austin and his family to find shelter in his brother's basement.
With better weather monitoring and the wider use of sirens and other warning systems, the number of tornado deaths per million Americans has been decreasing in the United States for decades. Yet the tornadoes that swept the mid-South served as a reminder, experts say, that better public education and new technology, such as text-messaging on cellphones, could augment traditional warning systems.
Meteorological trends seem to favor efforts to accomplish that. The frequency of the strongest twisters – F-4 and F-5 tornadoes, whose destruction is the most difficult to mitigate – is on the decline, even as the overall number of weaker storms has increased.
"In an F-4 or F-5, there's little anybody can do," says Ben Aguirre, a preparedness expert at the Disaster Research Center in Newark, Del. "We have to worry about more forgiving sorts of storms."
---