In tornadoes' wake, neighbors came through
After deadly twisters tore through the South, help came quickly for rural Macon County, Tenn. residents.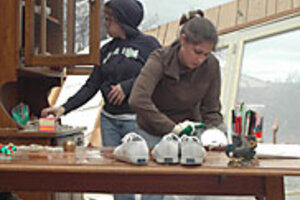 Amanda Herron/the jackson sun/ap
As the eerie orange glow of a massive pipeline fire lit up the storm-torn skies, James Krueger stumbled into a wasteland.
Flashlights pierced the night, people yelled for help, dogs yapped, and four-wheel-drive utility vehicles appeared on the hillside. Pierced and battered, but very much alive, Mr. Krueger was quickly picked up by a neighbor looking for survivors and taken to the hospital.
"I yelled for help and it came," he says.
The massive tornado that hit rural Macon County, Tenn., at 10:26 p.m. Tuesday night claimed at least 13 lives, injured 68, and destroyed 200 homes and four churches. But the massive twister reminded Krueger and hundreds of others how quickly help can come in the darkest hour – and sometimes in unlikely forms.
As officials wrapped up search-and-rescue missions – a family of five was found at 2 a.m. Thursday, 28 hours after the storm – stories of heroism and perseverance began percolating through the town of Lafayette (pop. 4,238), a part of which the mile-wide tornado hit on its 15-mile journey across the Cumberland plateau.
There were the men who jumped into their four-wheel-drive vehicles to carry injured adults and crying children to main roads. There were teams of men with chain saws clearing roads and clambering through debris. And there were the 300 or so emergency personnel, many of them hit by the storm themselves, who responded to the vast disaster scene, oftentimes within 20 minutes.
---