U.S. nuclear plant safety checks system under fire
Congress and two states scrutinize the relicensing process after a federal audit found problems with safety documents.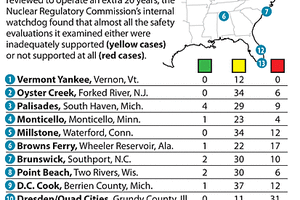 SOURCE: Nuclear Regulatory Commission, Office of Inspector General /Rich Clabaugh–STAFF
The federal relicensing system used to ensure that America's 1970s-era nuclear plants are safe for future decades is coming under fire following an audit that found key safety evaluations lacked critical documentation.
Without the documentation, regulators cannot be sure how carefully – or even if – the plants' key safety systems had been checked.
In filings last month, New York and Vermont regulators called for an overhaul of the Nuclear Regulatory Commission relicensing program before the NRC allows a plant in each of their states to operate for 20 more years.
Congress is eager to look at the relicensing question, too – as well as at other concerns such as the video showing guards asleep at a nuclear plant last year. Hearings are expected this month or next, says a staffer with the House Energy and Commerce Committee.
A half-dozen citizen groups have also filed objections, claiming the internal audit of the NRC's relicensing practices raises serious questions not only about current relicensing applications but past ones as well.
"Do we think the whole process is flawed? Yes, we do," says Richard Webster, an attorney for the Eastern Environmental Law Center in Newark, N.J. "The NRC can't document that these reviews were done properly and there are indications some weren't done well at all."
---