Lakes Mead and Powell could run dry by 2021
It's a 50 percent possibility, a new Scripps study finds, which would squeeze water supplies in Arizona, California, Nevada, and New Mexico.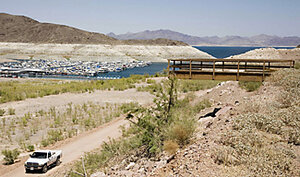 Adam Tanner/Reuters/FILE
Lake Mead and Lake Powell, which supply water and power to millions in the American Southwest, stand a 50 percent chance of running dry by 2021 unless dramatic changes take place in how the region uses water, according to a new study.
Causes include growing population, rising demand for Colorado River water, which feeds both lakes, and global warming, according to scientists at the Scripps Institution of Oceanography in La Jolla, Calif., who conducted the study.
The results underscore the importance of water-conservation measures that many communities throughout the region are putting into place. Other studies, some dating back nearly 20 years, have projected that Lake Mead could fall to virtually useless levels as climate warmed, but they lacked a sense of the timing. The new results, the Scripps scientists say, represent a first attempt to answer when lakes Mead and Powell would run dry, squeezing water supplies in Arizona, California, Nevada, and New Mexico.
---
Follow Stories Like This
Get the Monitor stories you care about delivered to your inbox.