U.S. 'citizen diplomats' honored for volunteering abroad
By helping improve lives around the world, they rebuild the America's image abroad.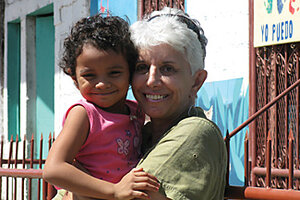 Courtesy of U.s. Center for Citizen Diplomacy
Donna Tabor never thought of herself as any kind of diplomat, associating the word with government emissaries "getting $200 haircuts to take expensive plane rides to meet with their counterparts from other governments."
But this week the former television producer from Pittsburgh was honored along with five other Americans for her accomplishments as a citizen diplomat: an ordinary American taking America's best qualities abroad through activities that improve lives and promote understanding.
In Ms. Tabor's case, a vacation in Nicaragua in 1992 led to a "passion for changing the world" that today has her helping Nicaraguan farmers send shade-grown coffee to the US while managing a gourmet restaurant with young former gang members and drug addicts.
Among the other Americans honored: a young woman from New Jersey whose student-run organization works to improve the lives of young people in Rwanda while also developing American students' understanding of Africa; a Montana mountain climber whose chance stay in a remote Pakistani village led to construction of a school – and a life dedicated to expanding education in Central Asia; and an Iraqi-born businessman promoting Arab understanding of America and opportunities for Arab-Americans.
---