Bloomberg: New York's 'black cars' should go green
Starting next year, executive rides must get at least 25 miles per gallon, and 30 mpg by 2010.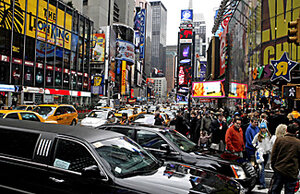 JASON DECROW/AP
Executives expect a certain amount of panache as they travel around the city. If an investment banker or lawyer works late, the company often pays for a ride home – in a late-model Lincoln Town Car or a big black SUV.
Starting next year, those black cars will have a certain green tinge since New York plans to mandate that vehicles that ferry executives get at least 25 miles per gallon. By 2010, they have to get 30 mpg.
Goodbye, Town Car (17 miles per gallon); hello, Toyota Camry hybrid (43 mpg).
Yes, New York's 10,000 black cars are going on a fuel diet.
Clean-air proponents see the shift as small but significant because the cars have a high visibility. In addition, some 30 million visitors travel through New York's airports every year. "If every person hops into a hybrid – whether it's a yellow cab or a black car – that is clean and efficient, it sends a powerful message," says Jack Hidary, chairman of SmartTransportation.org, a public interest group. "This is now spreading, and New York is a harbinger of what is to come."
The shift is part of Mayor Michael Bloomberg's plaNYC, an effort to significantly cut New York's greenhouse emissions by 2030. As part of this effort, last May the mayor announced that the city's 13,000 yellow taxis would have to meet stricter mileage standards by October. This likely means a major shift to hybrids.
---