Mass. highway troop banners may lose homemade spirit
Homemade banners are unsafe and should be replaced with metal signs, says the state highway department.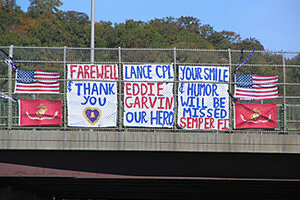 Courtesy of Jim Wareing
On an overpass that crosses Route 495 in Chelmsford, Mass., Jim Wareing maintains a permanent tribute to Lance Cpl. Andrew J. Zabierek, who died in Iraq in 2004. Flags and banners line the fence along the bridge that Andrew's father, Steve Zabierek, drives over everyday on his way to work. The town has even officially christened it the Lance Cpl. Andrew J. Zabierek Memorial Bridge.
"[It's] very significant to that family, to me, and to all the other troops who are returning home," says Mr. Wareing, who makes similar bridge tributes whenever a serviceman or servicewoman from his Boston suburb dies or returns home.
But there's a problem: the Massachusetts Highway Department says displays like Wareing's pose a safety hazard. It plans to remove them. "We were concerned that one of them would drop onto the windshield of a car," says Luisa Paiewonsky, commissioner of the highway department.
---