Does space need air traffic control?
As more countries race to launch satellites and manned craft, some warn of a space jam.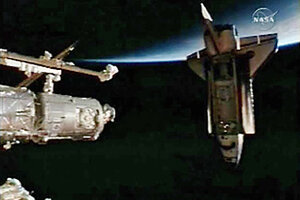 NASA TV/Reuters
The way Kirk Shireman describes it, the International Space Station is fast becoming the O'Hare International Airport of low Earth orbit.
The shuttle Endeavour docked with the station Wednesday night, and shares it with a Russian Progress resupply craft that arrived in February. The shuttle is slated to leave March 24. Europe's robotic cargo ship arrives April 3. Four days later Progress leaves, while a Russian Soyuz craft arrives April 10 for a crew swap. And next year, Japan is expected to add its automated resupply ship to the mix.
"That's quite a traffic flow. We're thinking about launching an air-traffic controller soon to keep it all straight," quips Mr. Shireman, the National Aeronautics and Space Administration's deputy program manager for the International Space Station.
His jest, during a recent prelaunch briefing, nevertheless highlights what several specialists see as an emerging issue for spaceflight in the 21st century: a need to overhaul the way people manage traffic in space – from human-tended craft and satellites to the long-standing problem of space debris.
Some say it may be time to set up an international body similar to the International Civil Aviation Organization to establish common standards and practices. Others suggest that individual nation-to-nation agreements could be enough.
---