California's fiscal crisis hits schools
Thousands of teachers may be laid off if the proposed budget cuts go through.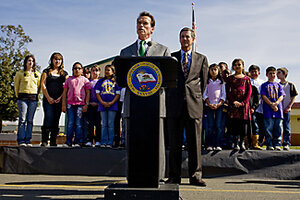 Brian Baer/Sacramento Bee/AP
California, home to 1 in 9 American schoolchildren, is on the brink of what may be the biggest public education crisis in state history. Facing a $16 billion state budget shortfall, Gov. Arnold Schwarzenegger has proposed $4.8 billion in school-funding cuts, or 10 percent of education spending.
In the past week, over 20,000 preliminary pink slips were sent by school districts to teachers and administrators state wide, according to the California Teachers Association. The association estimates another 87,000 (of a total 350,000 public school teachers) could come if Governor Schwarzenegger holds to his budget cut request.
Some say the request is a cry of "wolf" intended to draw public attention and force stalemated politicians to reconsider the cuts – or raise taxes. Others say fiscal reality will push the cuts through as presented.
Meanwhile, school districts and parents are in paroxysms over the thousands of teacher layoffs, the projected loss of librarians, nurses, counselors, and arts personnel; and the need to close schools, increase class sizes, and postpone buying new books.
"This is a story that carries important lessons for how American states fund their public education," says Michael Kirst, professor emeritus of education and business administration at Stanford University in Palo Alto. California's Proposition 13 of 1978, which capped property taxes, made districts more dependent on state aid for education. The state, he says "has seen its public schools suffer ever since."
"Most states leave the cushion of allowing local government to raise property taxes when state school revenues don't come through. This is a giant case study that they might want to keep that option or end up like California."
---