Do politics really tilt classrooms?
Students feel they learn more from professors whose views jibe with their own, researchers find.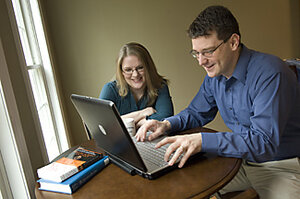 Matthew Lester/Special to The Christian Science Monitor
For April Kelly-Woessner and her husband, Matthew Woessner, political issues don't break neatly into "red" and "blue" in everyday conversation.
Both of them are political scientists. And they're registered in different parties.
But the Woessners, who each teach at the college level in Pennsylvania, say they're better at their jobs because of that dynamic. And together they're working on pioneering research that explores the question: How do students' and professors' politics affect the classroom?
It's an area ripe for facts. Too often, the research duo says, conservatives rely on exaggerated anecdotes to paint campuses as chock-full of liberal bias, while liberals are dismissive of what might be legitimate concerns. Their studies aren't meant to provide ammunition for one side or the other. Instead, they hope to remove the cloud of rhetoric and to inform the debate – and the academic climate – with data.
Colleges should prepare students for the political side of citizenship, but "we need to really be careful that there's a serious commitment by everybody to open-mindedness," says Anne Colby, co-author of "Educating for Democracy" and a senior scholar at the Carnegie Foundation for the Advancement of Teaching in Stanford, Calif. As professors attempt various strategies to do that, it's useful "to understand it from the students' point of view ... and I don't think anyone else has done that," she says of the Woessners' research.
---