Task force strikes hard at Medicare scams
A joint strike force makes gains against rampant Medicare fraud in Florida.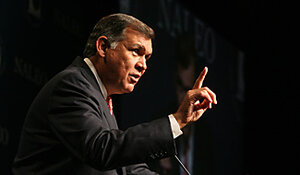 Red Huber/AP
Until last May, business was humming at All-Med Billing Corp. Then federal prosecutors charged the Miami-area medical billing company with orchestrating a $101 million scheme to bilk Medicare. Now owners Abner and Mabel Diaz are facing a criminal trial; two of the six other defendants in the case have already pleaded guilty.
Chalk up a victory for the Medicare Fraud Strike Force, a joint experiment of the Federal Bureau of Investigations, the Miami US attorney's office, and Medicare. Relying on traditional investigative methods and heightened interagency cooperation to quickly identify patterns of irregular billing, the one-year-old force charged 197 defendants last year – accounting for about 1 in 4 of all Medicare-fraud defendants in the United States.
"Four years ago, there were maybe one-quarter the number of the cases that we're bringing now" in South Florida, says Alexander Acosta, Miami's US attorney. "Does that mean the fraud wasn't here? No. That just means we weren't looking for the fraud."
---