Rise of the 'rock star' school superintendent
No Child Left Behind has created a demand for school administrators who can take the pressure, and some 20 percent of school districts are now seeking superintendents because of a shortage.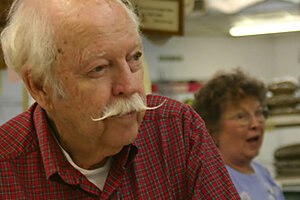 patrik jonsson
The list reads more like demands from a Hollywood agent than from a candidate to lead the schools for an antebellum-tinged suburb of Atlanta.
To come to work here in Clayton County, a failing school district in Georgia, former Pittsburgh superintendent John Thompson wants $275,000 in salary, a $2 million consulting budget, a Lincoln Town Car with a driver, and money to pay a personal bodyguard.
Sound a bit hefty for someone likely to pull a power lunch in a junior high cafeteria? Maybe not.
Fewer qualified candidates, rising expectations, and a near-impossible job description are creating a new breed of superintendents: Call them central office rock stars. These candidates say that, for the right price, they're willing to do an unpopular job that can take a heavy personal and professional toll to whip underperforming districts into shape.
The trend is exacerbated in struggling minority districts – many in the South – the very ones feeling the greatest pinch from new federal and state accountability laws.
"This group of superstars who are acting as basically consultants and doing all the dirty work, that's becoming more common, unfortunately," says Jim Harvey, a senior fellow at the Center for Reinventing Public Education in Seattle.
---