Colleges take more notice of gambling problems
Innovative efforts, like those in Missouri, address the problems of widespread student gambling.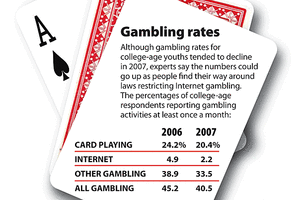 SOURCE: National Annenberg Survey of Youth/Rich Clabaugh–STAFF
Colleges concerned about the addictive potential of gambling face an uphill battle against its glamorized image. Think ESPN's all-out coverage of poker tournaments or the parade of movies: Now it's "21," about six students beating the house in Vegas; 10 years ago, the popular film "Rounders" featured Matt Damon as a law student and high-stakes poker player.
Whether it's in dorm rooms or at a "casino night" fundraiser, gambling pervades college campuses. And more schools are starting to take notice of the problems it can spawn.
In Missouri, for example, a coalition of 12 schools is working hard to reach out to students about gambling. They're starting to address betting through orientations and health surveys. They're training financial-aid officers to ask about gambling debts if a student requests an emergency loan. And earlier this month, they promoted an educational website (Keeping the Score) with giveaways during National Problem Gambling Awareness Week.
Silence is still too often the response to the surge of gambling on campus, prevention advocates say, but they see hopeful signs of change in nascent efforts like these around the country.
Teachable moments abound. Colleges and universities should "take on a responsibility to provide information about the law, to challenge students to think about their own ethics and values ... to be sure they understand where they can go if they think they might have a problem," says George McClellan, vice chancellor for student affairs at Indiana University-Purdue University, Fort Wayne.
---