A good grade for Teach for America
High-schoolers taught by the program's novice instructors scored better on year-end exams, study says.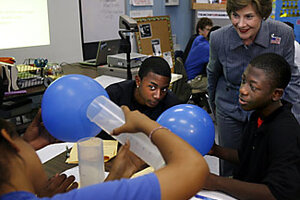 What makes a good teacher? Experience helps. But a new study of Teach for America (TFA) – education's version of the Peace Corps – shows that their novice high school teachers bring something to the classroom that trumps traditional training and experience.
The advantage of having a TFA teacher is particularly strong in math and science, the study finds.
The results are eye-opening at a time when teacher quality is a front-and-center issue. Good teachers are a key to closing achievement gaps for low-income and minority students, researchers say, but there's still much to be learned about how to get people into the classrooms where they're needed – and how to ensure their effectiveness once they get there.
"The fact that [this study] actually documents differences between different types of teachers ... is important as we consider the best ways in which to prepare teachers, the best ways to recruit them, the best ways to select them," says Heather Peske, director of teacher quality at The Education Trust, a Washington nonprofit that works to close student-achievement gaps.
TFA has sent about 17,000 elite college graduates into two-year stints in the neediest urban and rural classrooms since it started in 1990. They get intense training in the summer and then on the job – a crash course compared with the years of study and practice that most aspiring teachers undergo. That's drawn criticism from some corners.
---