Could flight disruptions have been avoided?
The FAA didn't give American Airlines the usual amount of time to fix the glitches.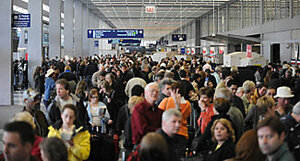 paul beaty/ap
In the middle of the game, the goal posts moved.
That's how aviation analysts are explaining last week's stunning move by the Federal Aviation Administration that prompted the grounding of all American Airlines' MD-80 jets – the workhorse of that airline. Delta, United, and other airlines also had to ground all their MD-80s.
The result was more than 3,000 flights canceled, an estimated 300,000 passengers delayed or rerouted, tens of millions of dollars in excess costs to the airlines, and many times that to the economy in lost productivity and wages.
The problem was not an imminent safety threat, according to the airlines, but a technical matter of whether wiring bundles in the wheel wells were wrapped and attached as the FAA had specified.
And that's where the rules of And that's where the rules of the game changed. In the past, say airline officials and aviation analysts, the FAA has negotiated time frames – say, two months – for airlines to come into technical compliance with its directives. But recent whistle-blower testimony indicating that the FAA had become too close to the airlines, and thus lax in its oversight, created a new environment.
"The FAA was not in the mood to negotiate anything, just having had its head handed to it by an oversight committee," says aviation consultant Robert Mann of R.W. Mann & Co. in Port Washington, N.Y. "The FAA moved the goal posts and put the airline in an untenable position: flying knowing it was not in compliance and risk huge fines or loss of its license, or [ground its fleet]."
---