Pope begins a 'teaching' trip to U.S.
Preaching universal values at the UN, Benedict will urge followers to strengthen their Catholic identity.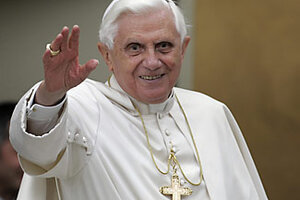 Pier Paolo Cito/AP
Pope Benedict XVI comes to the United States Tuesday to speak not only to a US church still struggling to recover from crisis, but also to deliver a message to the world at the United Nations.
Throughout his six-day visit to Washington and New York, the German-born pontiff and onetime college professor is expected to emphasize the most universal of Christian values, while urging individual believers and church institutions to strengthen their Catholic identity.
"What marks this pontificate is the teacher in him," says the Most Rev. Donald Wuerl, archbishop of Washington, D.C. And this "is a great teaching moment."
The pope, who arrives Tuesday evening, will meet with President Bush and with Catholic bishops on Wednesday, speak to Catholic educators and to representatives of other faiths on Thursday, and address the UN on Friday. He'll also offer mass to thousands at Nationals and Yankee stadiums and visit ground zero.
Pope Benedict is deeply committed to waging a battle against what he sees as a rising moral relativism" in the world and an "aggressive secularism" in Europe. He comes to America with an appreciation for its religious vitality and openness to the role of faith in public life.
---