What would Delta-Northwest merger cost flying public?
The deal could lead to further airline consolidations.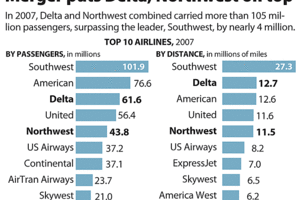 SOURCE: Bureau of Transportation Statistics/AP
Skepticism about the proposed consolidation of Northwest and Delta airlines is growing by the day.
The merger, which has been talked about for months and was finally given a green light by the companies' boards on Monday, would create the world's largest airline. If approved by regulators, it's also expected to unleash an unprecedented round of consolidation in the aviation industry that could cut in half, from six to three, the number of major network carriers that serve the nation's traveling public.
Aviation industry watchdogs and Wall Street analysts are eyeing the deal from different perspectives.
In general, Wall Street analysts favor the merger as a way to increase efficiencies and bolster the companies' financial stability as they cope with record fuel prices and international competition.
Consumer advocates counter that the merger will decrease aviation competition and bring in even worse service and higher prices. But there is one thing that both advocates and opponents agree on: If this merger is approved, it has the potential to bring about a major transformation of America's aviation system and federal regulators must be ready to address that.
"We are at one of those defining moments where a tectonic change is occurring," says Robert Mann, president of R.W. Mann & Co., an aviation analyst in Port Washington, N.Y. "We have to look at what this portends for an industry that is about to change radically."
---