College admissions dance gets longer, more complicated
It could be well into the summer before some graduating high school seniors know where they'll be studying in the fall.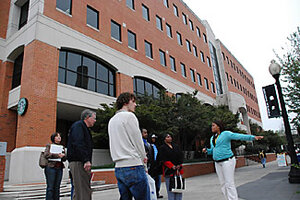 Steve Rouse/University of Southern Mississippi/AP/file
When you think of a teenage rite of spring fraught with doubts, the quest for a prom date might come to mind. But for many seniors this year, it's even trickier to pair up with a top-choice college.
The uncertainty, both for students and schools, is on the rise as each group turns to complicated selection strategies that make the SAT look like a walk in the park. So it could be a long wait – well into the summer for some – before it's clear where the largest graduating high school class in three decades will be studying in the fall.
"It's almost like a courtship ritual," says David Hawkins, director of public policy for the National Association for College Admission Counseling (NACAC) in Alexandria, Va. Colleges and students "are doing quite an elaborate dance around each other to figure out not only what their preferences are, but what the likelihood of matching up is."
The class of 2008 has been dubbed the "echo boom." At 3.3 million, it's the largest class since 3.15 million baby boomers graduated in 1977, the National Center for Education Statistics reports.
A host of factors are fueling the growing selectivity and longer waiting lists at top-tier colleges. Students send in more applications to maximize their chances. Colleges, wary of having too many offers turned down, are hesitant to admit students who may just think of them as a "safety."
Shifting admissions and financial-aid policies have also added to the unpredictability. A number of top schools have dropped early-application options, contributing to the springtime swell. Others have dipped into endowments to ensure that lower- and middle-income students can attend debt-free, prompting less well-endowed schools to wonder how well they can compete. And recent anxiety about the student-loan market makes it difficult for pricey colleges to predict how many students will commit.
---