Tainted Chinese imports spur calls to protect consumer
Toxic blood thinner may have killed as many as 81 people, US says.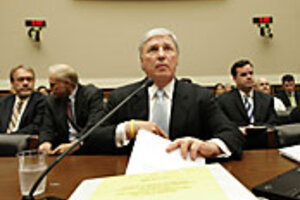 Susan Walsh
Lead in toys. Melamine in pet food. Toxic chemicals in toothpaste. And now, tainted pharmaceuticals.
The unfolding scandal of contaminated blood thinner from China is the latest in a string of revelations about dangerous imports from a country that has risen to become manufacturer to the world.
US lawmakers now are pushing for more protection for American consumers, as hearings in Congress this week have made clear. Even the head of the Food and Drug Administration (FDA) says he needs more money – and a new approach – to try and ensure that products entering the country are safe.
Other countries may well follow suit. In a world of increasingly globalized commerce, the next frontier may not be more or cheaper goods, but higher quality trade, says Moisés Naím, editor in chief of Foreign Policy magazine.
"What is now happening [with contaminated products] is going to create a big surge in consumer protection demands and expectations," says Mr. Naím, author of "Illicit," a book that details some of the problems of globalization.
According to the FDA, as many as 81 Americans may have died after taking heparin, a blood thinning agent, tainted in China via the addition of a poisonous chemical. US recalls of Chinese heparin ingredients began in February.
Chinese officials don't agree that the deaths were caused by contamination that may have occurred in their country. They say that the problem could stem from manufacturing of the finished drug at a plant in New Jersey.
---