In British Columbia, a beetle upsets climate calculus
A record infestation of beetles is turning western Canada's forests from a carbon sink into a CO2 source.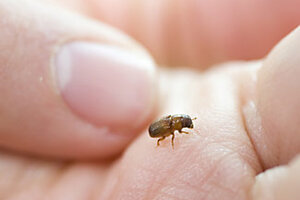 John Ulan/Ap
A beetle about the length of a well-trimmed fingernail may be challenging scientists' projections for global warming.
Forests store large amounts of carbon drawn from the atmosphere, helping Earth keep cool. But an infestation of mountain pine beetles is turning more than 144,000 square miles of woods in British Columbia from a slight carbon absorber – or sink – to a net CO2 emitter. Canadian scientists unveiled projections Wednesday that between 2000 and 2020, the forest will have lost 270 million tons of carbon into the atmosphere.
The process has the potential to become a vicious cycle: As the climate warms, it favors more severe outbreaks, and if severe outbreaks increase, that leaves fewer trees to absorb carbon and more emissions as dead trees decompose. Researchers say British Columbia's problem highlights a growing threat that North American forests, too, face from climate change.
"This is very important," acknowledges Tom Veblen, a geographer at the University of Colorado at Boulder who is looking at the interplay of climate change, insect infestations, and wildfires in forests in the western United States. He notes that climate models do not take this type of feedback into account when they gauge temperature trajectories as human-related greenhouse-gas emissions rise.
---
Follow Stories Like This
Get the Monitor stories you care about delivered to your inbox.