In West, mining's return faces resistance
The region's newcomers, who came for high-tech jobs and scenery, worry about ecological costs.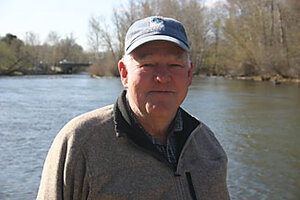 Ben Arnoldy
Not many cities can boast downtowns with both high-end jobs and river raft launches. That's what brought newcomers like the Gattiker family to Boise in droves – and what's driving them crazy about the coming of a gold mine.
"It just offended me that this company would come in and build this gold mine at the headwaters of the Boise River," says Kim Gattiker. "This river personifies the reason we moved here."
The family relocated to Boise three years ago, after Mr. Gattiker got job offers in three states. He now bikes to work along the riverfront and takes their sons fishing there. She, meanwhile, has become a activist opposing the mine.
Similar fights are playing out across the West as the high price of metals has brought mining roaring back to the region. Once seen as economic engines, mining companies are now treated more like pariahs in communities that have prospered by attracting wealthy pre-retirees and "knowledge economy" jobs.
"The [economic] imperative decades ago was 'we have to do the mine, it's all we can look to,' " says Larry Swanson, an economist at the University of Montana's Center for the Rocky Mountain West. "And now we've had this amenity-based growth here and ... the reality is now people are living off the scenery. People wouldn't be coming without it."
---