Grease bandits strike as biofuel demand rises
As the price of this waste product and biodiesel ingredient has risen, so have thefts.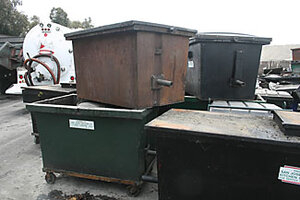 Ben arnoldy
Mark Rosenzweig watched with suspicion as a tanker truck sidled up to a local Burger King's grease bin last month. The driver plunged a hose into the 300-gallon tub of used French-fry grease and slurped it into his tank.
Mr. Rosenzweig called the police, patiently citing legal codes to convince them that, yes, grease theft is a crime. He should know. As a legitimate grease collector, he has his livelihood stolen four to five times a month these days.
In March, grease bandits in South Bend, Ind., broke bin locks to get to their oozy booty. One collector, Griffin Industries Inc., has two detectives working cases in Kentucky, Texas, Florida, Missouri, and against an entire grease gang in northern Arkansas.
Grease is a traded commodity like gold or pork bellies, and its price has tripled in the past two years – leading to increased theft. The reason: Grease can be used to make bio-diesel and has seen the same price spike as corn and other biofuel inputs.
"We monitor grease theft on a regular basis. Right now it's a big issue," says Christopher Griffin, director of legal affairs for Griffin Industries Inc. in Cold Spring, Ky. The company collects raw grease in 20 states and boils and filters it into "yellow grease," which is what is used to make biodiesel.
Yellow grease is becoming liquid gold. It now trades on US commodities markets for 32 cents per pound, up from a low of 12 cents in 2006, according to data from The Jacobsen website.
---