Shareholder ire may reshape Yahoo
After failed bid, change may come through boardroom rather than courtroom, say analysts.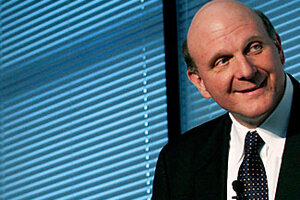 Virginia mayo/AP
After the collapse of Microsoft's acquisition bid and the plunge in its stock Monday, Yahoo's management is now under pressure to avert a shareholder revolt.
Some shareholders simply decided to sell. One activist investor called for the overthrow of the current board. Others are pursuing shareholder lawsuit, with more expected.
While shareholder frustration may eventually reshape Yahoo's boardroom, experts doubt its strength in the courtroom. "There's no question that the board of directors could have done a better job for its shareholders," says Scott Keller, a founder and analyst at DealAnalytics .com. "But that's a far leap from the legal world of class action lawsuits."
Yahoo's stock shed 15 percent of its value Monday. Though share price remains above pre-bid levels, few analysts think shareholders stand a chance of selling anytime soon at the $33-per-share price offered by Microsoft.
Some shareholders may be banking on Microsoft coming back, says Rob Enderle, principal analyst with The Enderle Group in San Jose, and that may be temporarily cushioning Yahoo's stock price.
Many analysts say Microsoft won't try again for Yahoo, despite needing the acquisition to gain a toehold in the search advertising market dominated by Google. "Microsoft is probably going to have to see an advance from Yahoo. The bridegroom has been left at the altar twice, so it's up to the bride to show she's interested in getting married," says Mr. Enderle.
The possibility that disillusioned shareholders may sell or overturn the board, however, puts pressure on Yahoo's CEO Jerry Yang to give them some hope of a turnaround.
---