For working moms, a way to connect with college
About 40 mothers are receiving scholarships from Project Working Mom to earn degrees online.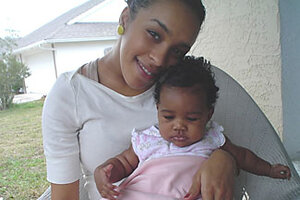 Courtesy of Sheena Payne
Sheena Payne was just a year shy of her bachelor's degree from Florida State University when she found out she was pregnant. As a single mom, she moved to Orlando so she and her daughter, Laila, could be near her family.
Now her essay about how online courses would help her finally clinch that diploma has won her an unforgettable Mother's Day gift: a full scholarship from American InterContinental University (AIU).
Nearly 40 other mothers will get similar good news this month from Project Working Mom. Set up by eLearners.com, a New Jersey company that promotes accredited online education, the project is distributing about $2 million from AIU, Walden University, and DeVry University.
The schools see it as a way to open doors of opportunity while at the same time connecting with a ready-made market of people who need the kind of flexibility their online programs offer. Demand is clearly growing. About 3.5 million students took at least one college course online in the fall of 2006, up 10 percent from the year before, according to the 2007 Sloan Survey of Online Learning.
---