On track toward record spring for tornadoes
The highest US total is from 1999, which had 676 tornadoes from January to mid-May.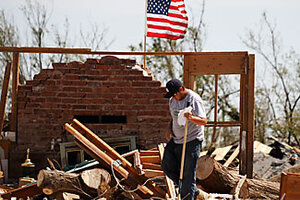 Sue Ogrocki
Extremes in temperature throughout the vast table of the American heartland are making 2008 one of the deadliest years for US tornadoes in recent history.
The supercell thunderstorms that breed twisters have occurred farther north and earlier in the year than is typical, according to some experts. But many are quick to add that this increase in severe weather is not necessarily an indication of permanent climate change.
"These kinds of events wax and wane through time, and I think it is a mistake to definitively come out and say that they are somehow attributed to global climate change," says Laurence Kalkstein, a research professor in the Department of Geography and Regional Studies at the University of Miami, in an e-mailed response to a reporter's question.
Tornado devastation began early this year, with a spate of winter storms that tore through Georgia and Arkansas in early February. The latest round occurred last weekend, when a series of tornadoes ripped through Missouri and other states, resulting in at least 27 fatalities.
According to the National Weather Service, about 100 people have died in tornadoes this year – the highest such grim number since 1998. The worst known year for tornado-related fatalities was 1953, when 519 died.
---