Can competitions raise 'cool' factor of math, science?
Math bees and science smackdowns for teen brainiacs are on the rise, along with efforts to fuel interest in those fields.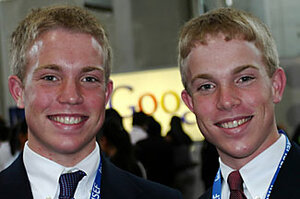 patrik jonsson
This is what high school seniors Will and Greg Kennedy, tow-headed researchers from Jacksonville, Fla., are up against this week as they compete for medals at the Super Bowl of science:
•The kid who built a bicycle – using only wooden parts.
•The teen who created a new kind of computer search program based on an idea called "ant colony optimization."
•The New Mexico boy who built a two-inch-wide small-well pump used to draw drinking water from deep test wells.
How well the Kennedy twins' research on cancer drug interactions ranks against these and 1,244 other projects entered in this year's International Science and Engineering Fair (ISEF) – 20 percent of which already have patents pending – isn't as important, the boys say, as their peers paying attention to their work.
"Just getting to this point is like winning something big," says Will, who partnered with his brother and the Mayo Clinic for their research. "Everybody feels like a celebrity here."
At a time when the US is desperate to halt its slide in the world's math and science rankings, ISEF is one of a growing number of über-competitive math bowls and science fairs that are putting the imprimatur of cool back into physics, trigonometry, and hydraulics. Whether such science project showdowns can truly inspire America's far-flung talent pools to learn what US Education Secretary Margaret Spellings calls "pocket protector skills," however, still remains to be seen.
---