NAACP turns to a leader from a newer generation
Benjamin Jealous was chosen amid divides over how to reenergize the organization.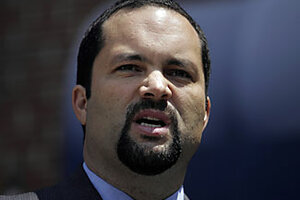 Lawrence Jackson/AP
The safe choice would have been a pastor or politician, someone with oratory chops and a lineage among the lions of the civil rights era. To the shock of many, the National Association for the Advancement of Colored People has gone with a fresh face for its next president.
Benjamin Jealous, who at 35 has already headed a newspaper publishers association, Amnesty International's US human rights program, and a social-justice foundation, was named Saturday to lead the hallmark civil rights organization, the youngest person ever to do so.
His youth has excited the hip-hop generation of black activists and furrowed the brows of some of their elders, reflecting disagreement about where to turn to reenergize the NAACP – the black churches with storied spokesmen, or the burgeoning nonprofits and online networks with new forms of outreach.
"I think Ben is exactly what the NAACP needs," says James Rucker, cofounder of the San Francisco-based ColorOfChange.org. "There's management issues, and Ben brings real nonprofit management to the table.
"Ben doesn't come out of the black church, and some people will ask if he's paid his civil rights dues," he adds. "For folks like me, that means almost nothing. In corporate America you can't say, 'I'm losing money hand over fist, but I've been here a long time.' "
---
Follow Stories Like This
Get the Monitor stories you care about delivered to your inbox.