Border schools get tough on Mexican students
In Calexico, Calif., schools crack down on students who live across the border.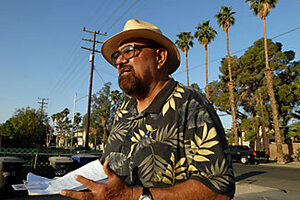 MARY KNOX MERRILL – STAFF
CALEXICO and SAN DIEGO, Calif.
If you cross the US-Mexican border at the town of Calexico you might run into a photographer named Daniel Santillan. But he's not likely to be shooting pictures of tourists. He only has eyes for Mexican schoolchildren who want an American education.
Mr. Santillan is a residency enforcer, assigned by local education officials to make sure students live in the US, not Mexico. When he's not tracking students on weekday mornings at the border crossing, he visits local homes to make sure children live where their parents say they do.
Santillan isn't thrilled about busting youngsters for living south of the border, but he accepts his job. "The bottom line is that these kids are taking up room," he says.
It's impossible to know how many Mexican students cross the border daily to attend school in the US, sent by parents who think they'll get a better education. Still, border communities have fretted over their presence for more than a decade.
Some schools are now doing more to enforce residency requirements under pressure from politicians and activists concerned about wasted taxpayer money.
Calexico's schools, however, have gone further than others by sending Santillan to photograph students at the border and requiring parents to provide proof of residency twice a year.
The school district, which serves 9,000 students in a poor southwestern California border town, wasn't overly concerned about Mexican students until about three years ago.
After all, Calexico schools didn't lose any money by accepting the students, since the state of California reimburses the district for each student it accepts. Also, Mexican students didn't necessarily stand out, since 95 percent of Calexico residents are Latino. And close relationships with Calexico's sister city in Mexico – the sprawling metropolis Mexicali – made cross-border trips easy.
---