Tribes strive to save native tongues
In the Pacific Northwest, some 40 indigenous languages are at risk of disappearing within a decade.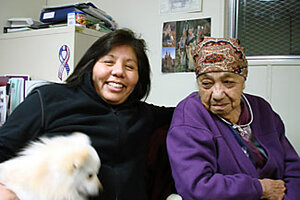 Aaron Clark
Grass-roots efforts to preserve and teach youngsters native languages are intensifying around the Pacific Northwest and British Columbia as about 40 indigenous tongues are in danger of disappearing within the next decade.
Native leaders are compiling dictionaries, drafting lesson plans, and scrambling to save what scraps of language they can before the last of the fluent elders dies. In the case of Kiksht, a language spoken for centuries along Oregon's Columbia River, there are two remaining speakers and neither can remember the words for "yawn" or "brown."
"It's funny, but it's stuff we still need to know," says Radine "Deanie" Johnson, a former forklift operator spearheading efforts to preserve her grandmother's language on this hardscrabble reservation in central Oregon. "I think if we didn't have our languages, our customs, traditions, that we wouldn't be considered native Americans."
Many of these languages such as Skagit, Ichishkiin, or northern Haida still have dozens of fluent native speakers, but nearly all of them are middle-aged or older.
Attempts to record these languages vary, but most are underfunded. A few have the services of a dedicated linguist; others are more ad hoc. So-called "revitalization" programs may be successful at passing on a few traditional phrases, stories, or dances. But most attempts to bring a language back into common usage after the majority of speakers have reached middle age have failed.
---