Christian Scientists, at annual meeting, focus on Christly 'simplicity'
The church increased savings and expenditures, according to reports. Monitor editor Richard Bergenheim takes on additional role as church president.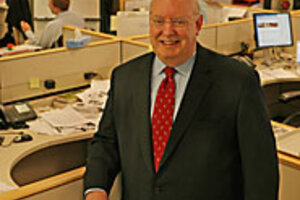 Melanie Stetson Freeman - Staff
At their annual meeting in Boston June 2, Christian Scientists focused on the theme, "The simplicity that is in Christ," a phrase drawn from one of St. Paul's messages to the Corinthians in the Bible.
The Board of Directors of The First Church of Christ, Scientist, urged members – both in Boston and around the world participating via a webcast – to celebrate the pure Christliness that heals.
"One Bible translation gives that phrase 'simplicity in Christ' as 'single-minded devotion to Christ,' " noted Margaret Rogers, one of the five members of the board.
The directors elaborated on what could distract people from such single-mindedness – such as materialism, lack of compassion, or divisiveness within the church. They delivered their message in two parts. The first was a videotaped conversation during their recent trip to São Paulo, Brazil. Then they all participated in giving the Clerk's report to the audience gathered at what's known as The Mother Church in Boston.
Richard Bergenheim conducted the meeting as the new president of the church. He will serve a one-year term and continue in his role as editor of The Christian Science Monitor.
Mr. Bergenheim, a practitioner and teacher of Christian Science, plans to travel to discuss with members ways to broaden support for the church's periodicals. The Christian Science Publishing Society produces weekly and monthly religious magazines and other products, including this newspaper.
It's not the first time for such jobs to overlap in the church. Monitor editor in chief Erwin Canham served as president of the church in 1966.
---