Chicago mulls Olympic costs as it makes 2016 final four
Public transportation and long-ignored neighborhoods would need to be overhauled.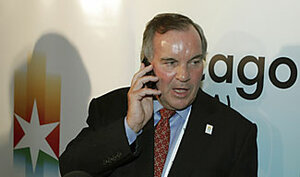 Paris Sarrikostas/AP
America's Second City is aiming for new international prominence as Olympics host.
And Chicago moved that much closer to its goal with Wednesday's announcement of the final four cities in the running for the 2016 Summer Games.
Over the next year and a half, Chicago will try to prove to the International Olympics Committee (IOC) that it can offer more than Tokyo, Madrid, or Rio de Janeiro – and to its residents that hosting the games would be an economic and prestige boon worth the hefty price tag.
"A city can really boost its brand if it does the Olympics and does it well," says Jeffrey Rosensweig, an international business professor at Emory University in Atlanta. "People underestimate the power of tourism as an economic engine.... Barcelona was really able to show the world what a great place it is. It's still benefiting so much later."
But, cautions Professor Rosensweig, not every city lives up to the Barcelona model. Montreal, for instance, was left with white-elephant structures that no longer have much use, and a financial loss. Atlanta, the 1996 host, didn't lose money, but "didn't get the kind of spending needed to truly transform the city," says Rosensweig.
---