'Dixie dogs' head north
But is this rescue effort the best thing for pooches transported from the South?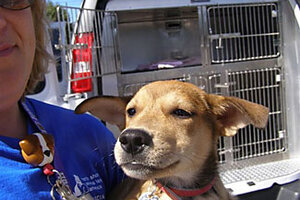 Courtesy of Georgia Humane Society
A hound named Carrie riding shotgun, Dom Fanelli darted up the East Coast last weekend with a cuddly cargo: In the back of his van rustled 30 dogs, mostly puppies, rescued from overcrowded shelters in rural Georgia.
His destination: Port Washington, N.Y., where potential adopters eagerly awaited the delivery of the gangly pups. Along the way, Mr. Fanelli stopped every few hours to water and walk the dogs. Inevitably, crowds gathered to scratch some ears.
"Every time we stop we have a crowd, and that's why I like doing this," says Fanelli, an airplane technician, via cellphone from the road. "People always ask, 'Where are they coming from and where are they going?'"
Fanelli's regular route from the Fulton County Animal Shelter in Atlanta to various points in the Northeast is but a small cog in a burgeoning transport network that experts liken to an underground doggie railroad, where thousands of otherwise doomed Southern canines are shipped to new lives in the North.
Yet following a number of incidents involving rescue dogs from the South – including a Labrador mix that beat up five Yorkshire terriers on a Maine beach last month – animal-control officers and veterinarians have begun raising questions about the practice. Some say well-meaning Northerners, fueled by stereotypes of the South, may be prolonging misery for bad dogs, creating a health risk by accepting sick dogs, and exposing unintended consequences of the strict spay-and-neuter laws that have created a dramatic puppy shortage in the Northeast.
---