Horse racing under new congressional scrutiny
Lawmakers cite drugging, gambling, and abuse of animals as reasons to probe.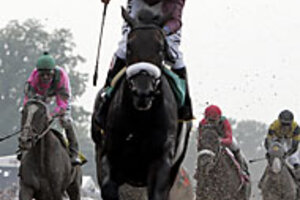 Paul J. Bereswill/Newsday/NEWSCOM
First, the filly Eight Belles falls awkwardly after finishing second at the Kentucky Derby, becoming one of some 5,000 horses that have died in the US since 2003.
Then Big Brown, a beefy 3-year-old bay colt that dominated the Preakness and the Derby, shockingly peters out on the final stretch at the Belmont Stakes – the first Triple Crown contender to ever finish last.
And now this week Congress begins hearings on the ethics of horse racing, auguring the end of a steroid-boosted era of superhero colts and phenom fillies – a three-decade span that has been unable to produce a Triple Crown winner.
Hooves down, it's been a tough year for the $40 billion US horse racing industry. As the world watched the Eight Belles tragedy on the track last month, horse racing overall saw attendance fizzle and wagering flatline – signs that one of the world's oldest sports is wrestling with some of modern society's toughest questions about the effects of greed on animal husbandry.
"When you talk about the Kentucky Derby, Belmont, Preakness, the whole country focuses on those, they attract stars from Hollywood, and it's all pretty romantic and wonderful," says US Rep. Ed Whitfield (R) of Kentucky, who holds hearings Thursday. "But in everyday racing, there are horses going down, and then the horses unable to fulfill their promise going to slaughter. The greed has trumped the concern for the horse, it's trumped the safety of the jockeys, and it's trumped the integrity of the sport."
---