From our files: The nonconforming George Carlin
The irreverent comedian, who died June 22, was interviewed by the Monitor in 1973 after a transitional time for his standup routine in which, he says he had discovered his true character - himself.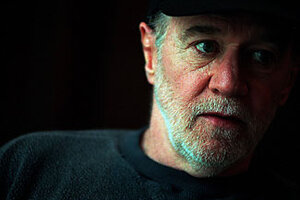 NEWSCOM
From the July 23, 1973 edition of The Christian Science Monitor
Television is just a place to stop off and tell the world that you're making it without television, according to George Carlin. "It only reflects that you're a success in concerts, records, movies, whatever you do well. You then come on TV to boast about it and maybe offer a little sample."
In this case, the sample is "Monsanto Night Presents the real George Carlin," a TV special which will appear in most major viewing regions sometime in mid-August. To shoot, the comedian is returning to all his old haunts in his native New York City - Columbia University, near where he was born; Grant's Tomb, where he played as a boy; the Bitter End, the kind of club in which he performs best.
He has brought with him Kris Kristofferson, Rita Coolidge, B.B. King - and four air-conditioned trailers. He is chatting in one of the trailers, parked near the Columbia library, where 300 students, hangers-on, and passers-by are waiting for the camera to be repaired so he can perform.
"Let's face it," Mr. Carlin continues. "TV is controlled by government and paid for by private industry. Certainly with that combination the result is bound to be mostly junk. Even with the freedom I was promised on this show, I'm sure I'll only be able to get 50 percent of what I want onto the screen."
'NOTHING BEHIND HIM'
---