Across U.S., schools feel budget pinch
Slashed funding and rising costs are forcing school districts to cut back, even close down.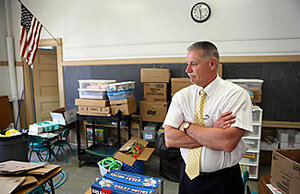 Melanie Stetson freeman – staff
The Fallon elementary school is a joyous place. But last week, some parents, students, and staff felt as blue as the hallway walls. On Friday, the small school in Lynn, Mass., shut its doors – not just for the summer, but for good.
In districts across the United States, budget shortfalls are resulting in locked-up schools, flurries of pink slips, and empty shelves where new books and computers should be. In cities from Los Angeles to Detroit, and in rural towns from Louisiana to New Hampshire, schools, like other sectors, are caught between skyrocketing prices and dried-up funding streams.
"You have the perfect storm forming," says Chuck Essigs, director of government relations for the Arizona Association of School Business Officials. "You have costs going up ... for energy and fuel and health insurance ...
and a loss of revenue from the state. [That is] creating certainly a lot more of a challenge than school districts have faced in many, many years."
Twenty-nine states are facing a total of about $48 billion in overall shortfalls for fiscal year 2009, nearly a 10 percent drop, according to the Center on Budget and Policy Priorities in Washington, and education will bear some of the burden.
---