With E-Verify, too many errors to expand its use?
Database aims to make it easy for employers to check worker immigration status. Critics say the accuracy rate is too low.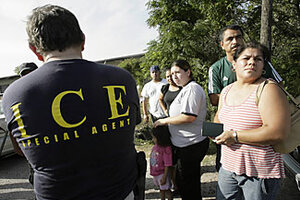 AP/file
Two hours after Fernando Tinoco started his new job at a meatpacking plant in Chicago, he was escorted by security guards to the office and fired.
The reason: Company officials had entered his Social Security number into the Department of Homeland Security's E-Verify system. It's a mostly voluntary program designed to give employers a fast, easy way to check a person's immigration status. Mr. Tinoco's information came back as a "tentative non-confirmation," meaning that he may not be a citizen. He was shown the door.
But Tinoco is a citizen and has been since 1989. Immediately after his firing a few months ago, he went to a Social Security office and got a letter confirming his legal status. It was too late.
"I went back and the security guard chased me away, told me not to come back to the company because I was fired," he says in a phone interview.
President Bush's recent executive order mandating that all federal contractors use E-Verify and legislation pending in Congress that would make the program mandatory for all employers nationwide have heightened concerns among critics that thousands of legal Americans will be unfairly denied jobs. That's because E-Verify relies mainly on the Social Security database, which the Government Accountability Office has found to be fraught with errors. Studies have also shown that almost half of employers who are already using E-Verify are not abiding by rules designed to protect citizens like Tinoco.
---