Battling California fires, inmates find a chance at better role
About 2,500 trained inmate firefighters are providing vital help in the wildfire crisis.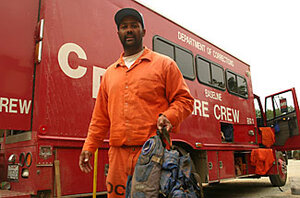 Ben Arnoldy
The fire whirl came spinning up the steep slopes of Big Sur like a dust devil of flame. It headed for the new guy on the fire crew, Billy Gray, who threw on his shroud and bowed his head just in time. The whirl washed over him, then exploded into a grass fire.
"I turned and yelled, 'Spot fire!' I thank God I didn't get burned," says Mr. Gray, recounting his recent baptism as a prison inmate-turned-firefighter. More than 1 in 10 firefighters here at the Basin Complex – California's biggest blaze – are trained state prisoners.
Despite the danger and 24-hour shifts involving 3,000-foot climbs with 40-pound packs, Gray pushes on. "Plenty of times I've wanted to quit," he says. "It teaches you to persevere."
With 2,500 trained prisoners currently fighting fires, California's inmate firefighting program has proved invaluable as the state struggles to throw enough manpower at this year's lightning-strike siege. The 60-year-old program even seems to be weathering the budget crunch in Sacramento.
For the prisoners, firefighting fosters new growth in their character,
like Sequoia seeds loosed by wildfire.
"We can be going from one fire to another driving down the highway, and people pull up just saying thank you," says firefighter Anthony Candido, who is dressed in an orange corrections jumpsuit. "Even though I have to wear these colors, I still feel important."
---