Does new S.A.T. help with admissions decisions?
The College Board releases a positive report on the writing section, but many schools are doing their own studies.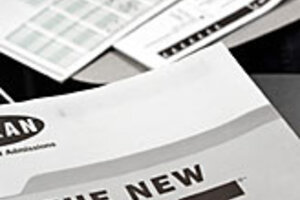 John Nordell/CSM/file
For the past three years, when high school students have hit the SAT prep books, that's included a tuneup for a writing section. For colleges trying to predict student performance, the new test has been: (a) helpful, (b) not helpful, (c) both of the above, or d) don't know.
So far, many colleges are answering "d."
The College Board, which administers the SAT, is offering another answer this summer in a much-anticipated study. The report shows the writing section to be more predictive of a student's first-year grades in college than the math or critical reading sections. The board also noted in its study that combining the entire SAT with high school grades was an even stronger predictor of performance.
The board also touts the broader educational benefits of the writing segment. "Since the SAT added writing, high schools in this nation are focusing more on teaching writing," says Laurence Bunin, senior vice president for the SAT. "That's really important for students – for their readiness for college and success in college."
Many schools, though, have been conducting their own examinations of the writing section, rather than depending on the board's study. "For a lot of colleges, the jury is still out," says David Hawkins, director of public policy for the National Association for College Admission Counseling (NACAC) in Alexandria, Va.
Some observers criticize the writing test for not producing a larger boost in the overall value of the SAT as a predictor of performance. The new SAT is just a "longer and more expensive" version of the old one, notes Robert Schaeffer of the National Center for Fair and Open Testing (FairTest), an assessment reform group in Cambridge, Mass.
---