The spread of bans on driving while texting
Legislatures in at least 14 states are considering restrictions on drivers tapping out text messages. Four states already have bans.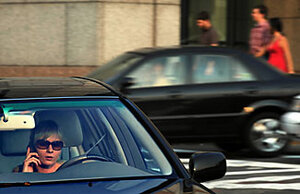 Ann Hermes
The California legislator who championed the state's ban on using hand-held cellphones while driving has a new target: text messaging at the wheel.
When Sen. Joe Simitian (D) started work on the bill to mandate hands-free chatting for California's 23.6 million motorists in 2001, texting was barely in the lexicon of even the savviest techies. But that's all changed. Internet-ready smartphones are gobbling up the wireless phone market, letting users send text messages and check e-mail from just about anywhere.
In addition to California, legislatures in at least 13 other states are considering some kind of ban on drivers tapping out text messages. Four states have already made it illegal for motorists to send text messages. Another set of four states bans cellphones altogether for drivers under the age of 18.
While several studies link the use of hand-held phones to traffic accidents and fatalities, texting is too new to have received the same kind of scrutiny. But accidents around the country blamed on texting have drawn the public's attention. Most recently, texting appears to have played a role in a fatal hit-and-run on July 12 in Easton, Mass., according to the prosecutor in the case.
A May survey by Nationwide Insurance found that 18 percent of motorists who have cellphones text and drive simultaneously. The number rises among drivers 18 to 30 years old: In that age group, 39 percent of drivers say they attempt to balance texting and steering, according to the survey.
---