Finding a welcome home for used books
With volunteer effort, David Mazor's idea has helped readers around the U.S.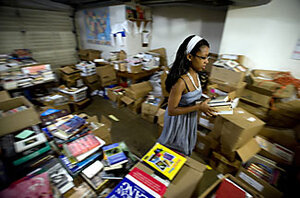 ann hermes/the Christian Science Monitor
It all started with a stack of books that needed a home.
David Mazor had some leftovers after collecting book donations for his daughter's state college. He Googled "poorest state" and came up with Mississippi. He searched for its poorest town and up popped Durant, a tiny thumbprint near the road connecting Memphis and New Orleans.
The next morning he called the town's high school librarian and asked if they needed any books. "At our school," he recalls her saying, "if someone wants to learn about landing on the moon, we don't have any books that current."
Eight years later, you'd need a shelf about 30 times the length of Durant's main drag to hold the 2,000,000 new and gently used books Mr. Mazor has distributed throughout the United States.
Each delivery is like a rain shower on thirsty land: School library spending per student has declined about 40 percent since 2000, to $11.24, according to the American Library Association.
At first, friends' donations landed in Mazor's garage, where he matched them to librarians' wish lists and shipped them off, charging postage to his credit card.
"It was so exciting to see how much the schools responded to what we were sending," he says, delight flashing across his face. "My wife thought I was kind of crazy because I woke up in the middle of the night and said, 'I know what I'm going to do!' " He shifted away from his work as a film distributor and launched a nonprofit, Reader to Reader, to sustain his matchmaking efforts.
---