Too few low-income college students?
Pressure mounts on colleges to reduce barriers for that pool of talent.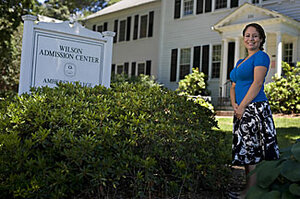 Ann Hermes
The road to a college education in America is paved with good grades and hard work. But it also takes money and knowing how to navigate a complex admissions route – two factors that have contributed to poor students' underrepresentation on many campuses.
About 50 percent of low-income students enroll in college right after high school, compared with 80 percent of high-income students, according to the National Center for Education Statistics. That's a gap of 30 percentage points, a gap that over the past 30 years has fluctuated between 22 and 49 points.
For low-income students with high achievement levels, the college attendance rate is higher – about 77 percent – but that's about the same rate as high-income students with much lower achievement scores, according the College Board, a nonprofit association in New York that tracks and promotes college attendance.
As competition intensifies in the global marketplace – and as the numbers of people in developing countries who complete college is quickly increasing – pressure is mounting in the US to remove barriers to higher education and develop the pool of talent represented by low-income students.
"Higher education used to be one of the ways to get to the American middle class.... [Now] it's the only way," because of the loss of low-skill, high-wage jobs, says Thomas Mortenson, an Iowa-based senior scholar with the Pell Institute for the Study of Opportunity in Higher Education in Washington. "That places a very different set of responsibilities on higher education. If in fact they're going to play a socially constructive, economically constructive ... role, they have to diversify their enrollments."
---