Stuck in Syria, Iraqi students get a crack at college in the U.S.
A nonprofit group paves the way by negotiating tuition waivers.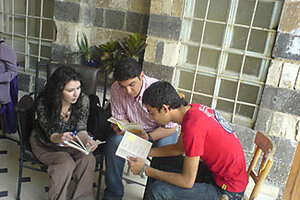 Courtesy of The Iraqi Student Project
They've been threatened for not wearing a veil or simply for having the wrong name in a country torn by sectarian strife. They've had friends killed and fathers kidnapped. They've fled their homes and put their dreams on hold.
But now 15 Iraqi students have resurrected their ambitions. They are on their way to the United States to join the class of 2012 at colleges and universities that have waived tuition to help them become Iraq's future architects, teachers, psychologists.
The Iraqi Student Project was born of two American peace activists' desire to give something back to Iraqis in the wake of violence triggered by the US invasion in 2003. Retirees Gabe Huck and Theresa Kubasak moved to Damascus, Syria, in 2005 to learn Arabic and stay close to the issues and culture they had come to love during trips to Iraq before the war.
Syria is now home to an estimated 1 million or more Iraqi refugees. "By spring [of 2007], we had met so many young people who were robbed of the opportunity to finish their education," Ms. Kubasak says. "The students are really smart; they have great promise." But their families don't have the money to pay for university in Syria, and it is hard to find work, so they were bored, bordering on hopeless, she adds.
The couple rallied friends to ask US college administrators to consider a tuition waiver for an Iraqi. Some were skeptical at first, wondering how the field would be winnowed down to those who had enough English and academic skills to merit a place. But convinced by the on-the-ground screening and support the couple was doing in Damascus, 14 schools got on board in cities ranging from Buffalo, N.Y., to Olympia, Wash.
---