Medicaid bears brunt of states' budget crunch
Healthcare cuts in California and New York could affect thousands.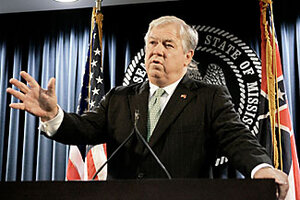 Rogelio V. Solis/AP
Low-income Americans, beware.
Facing budget deficits, two of the nation's most populous states, California and New York, are proposing changes in Medicaid that could affect the eligibility of hundreds of thousands of people or decrease funding for hospitals, doctors, dentists, and pharmacists.
Last month, California cut reimbursements to providers by 10 percent. With the legislature deadlocked over the budget, some healthcare facilities are now close to bankruptcy since no money is flowing to providers.
Other states are tacking on fees or cutting funds for charity care in hospitals. And, as more states face falling tax revenues, there could be more cuts by this fall.
"Medicaid is very much in jeopardy," says Iris Lav, deputy director at the Center on Budget and Policy Priorities in Washington.
The last time states were forced to cut Medicaid programs was after the 2001-02 recession when unemployment was high and tax revenues weak. At the same time, enrollment in Medicaid soared – rising 11 percent between 2000 and 2002 and another 7 percent in 2003. In 2006, the latest numbers available, spending on Medicaid hit $304 billion, up 48 percent from 2000.
One in 5 Americans is covered by Medicaid.
"This is a recurring problem states have during every recession," says Stephen Zuckerman, a healthcare economist at the Urban Institute in Washington. "Last time, Congress allocated more money."
---