US Sugar buyout: sweet deal for the Everglades?
Removing land from cane production could help save this environmental jewel.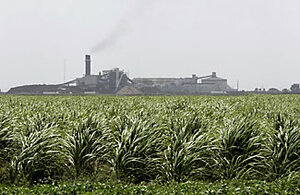 Joe Skipper
Banged out in secret meetings, a $1.75 billion taxpayer-funded plan to buy 187,000 acres of US Sugar's cane fields in the Lake Okeechobee basin marks one of the largest conservation buyouts of a major industry in the US, promising to break a major chokehold on the slowly dying Everglades.
But will it really work – and at what cost?
Those are the tough questions facing Floridians from Cracker families of the lake plains to suburbanites in Palm Beach. In a state usually more generous toward sun-seekers than swamp falcons, the buyout reflects a major change of political direction on behalf of the state's fragile backwaters.
What's more, the implications of the US Sugar deal could go far beyond the Sunshine State, offering a new Republican vision for downsizing polluting industries in a globalized economy while reducing – in Big Sugar's case – $2 billion in annual subsidies from Uncle Sam.
But University of Miami economist Richard Weiskoff warns that the buyout could turn out to be a backroom deal among political and industrial interests that fails to deliver salvation for one of the world's wildest and most important ecosystems.
---