Boston's newest classrooms: schoolyards
In sprucing up playgrounds, the Boston Schoolyard Initiative has found a way to help kids learn.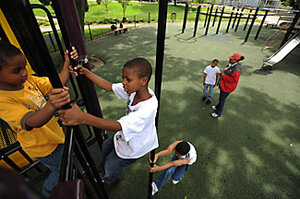 Ann Hermes
The Boston Schoolyard Initiative started with parents and teachers clamoring for safe places where they could tell kids to "go outside and play." As it has evolved, its new motto could be: "Go outside and learn."
The effort to renovate school sites and add "outdoor classrooms" has become a national model as cities struggle to address both childhood obesity and academic gaps.
Like many city schoolyards, Boston's had largely been paved over because old, rotting play structures posed safety hazards. The shortage of open green space for children became so acute that Mayor Thomas Menino launched the initiative in 1995, bringing together city and school leaders, local residents, and private funders to create inviting outdoor settings for schools and communities to share.
It started with transforming asphalt wastelands into colorful climbing structures, landscaped walking paths, and space for public art. In 2005, the initiative began adding outdoor classrooms – mini wilderness zones, gardening areas, and other features that teachers use for everything from science lessons to writing projects.
"We don't refer to them as playgrounds, because they are more than that," says Kim Comart, interim director of the Boston Schoolyard Funders Collaborative, the private side of the partnership.
---