New Orleans pastors get help from churches across country
A post-Katrina initiative teams up churches nationwide to help rebuild displaced congregations.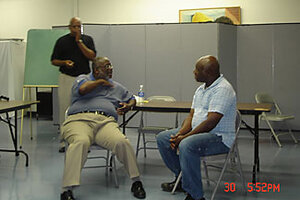 Courtesy of Rev. Charles Duplessis/Mount Nebo Bible Baptist Church
In the years since hurricane Katrina battered New Orleans on Aug. 29, 2005, the Rev. Donald Boutte and fellow African-American pastors have acquired some allies in their struggle to rebuild their churches and devastated neighborhoods.
A long path to full recovery still stretches ahead. Hundreds in their congregations remain scattered and others lack the resources to repair their homes. But through an initiative called Churches Supporting Churches (CSC), the ministers have found succor and aid in partnerships with other congregations across the country.
Some pastors have seen their own lives restored, churches rebuilt physically and spiritually, and newfound skills to take on a civil leadership role in reshaping the city's future.
"When a pastor has lost his home, his church, his livelihood, you don't think clearly, no matter how strong you are," says Mr. Boutte, pastor of St. John Baptist Church in New Orleans's Carrollton section. "If I had not had this support, our recovery would not have been as quick."
Today his church is back at the pre-Katrina membership level, though 30 percent of the former congregation is still dislocated. He's begun a ministry for at-risk youth. And he's conducting an in-depth survey of the neighborhood as part of a CSC program to spur redevelopment in 12 sections of the city.
One key element of the CSC program has been monthly "pastor institutes," where the men deal with their traumas, build strong relationships, and train in policy issues that affect their communities. "These leaders were dedicated before in a spiritual pastoral way, but not connected to a civic leadership role," says Kalima Rose of Policy Link, a California-based research group that works on New Orleans post-Katrina. "The leadership development gives me a lot of confidence that this will have longevity and sustainability."
---