Who wants to be a teacher? A whole lot of people, a new survey finds.
Forty-two percent of college-educated adults would consider teaching as a career.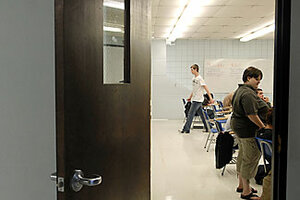 Aaron Eisenhauer/Southeast Missourian/AP/FILE
If you've ever thought about ditching your current job to become a teacher, you've got plenty of company. Forty-two percent of college-educated 24- to 60-year-olds would consider teaching as a career, according to a survey out Wednesday from the Woodrow Wilson National Fellowship Foundation in Princeton, N.J.
That's good news as schools brace for a wave of baby boomers about to leave their whiteboard markers behind for good. Because of retirements, teacher turnover, and enrollment growth, schools will need to hire somewhere between 2.9 million and 5.1 million teachers between now and 2020, the Federal Reserve Bank of Chicago estimates.
Tapping the potential of mid-career professionals and older adults seeking "encore careers" isn't easy, especially given their salary expectations. But education policymakers increasingly see it as essential.
School districts "won't be able to replace half their workforce unless they change the structure … to embrace these career-changers," says Tom Carroll, president of the National Commission on Teaching and America's Future, a research and advocacy nonprofit in Washington. The changes needed, he says, include more collaborative work environments and a pay structure that credits experience in other fields and rewards job performance.
---